Quick information
🏎️ Alfa Romeo GT
📍 Italy
🛠️ 1.8 T.Spark 163NM 140HP
💨 9,9 seconds
🔝 205km/h
💶 No longer on sale
What is it?
Known by its abbreviated name "GT", the Alfa Romeo Gran Turismo is a medium sized Italian Coupe produced in a single generation from 2003 to 2010. Today the GT is a rather rare car to find, as only 80,000 have been sold examples, of which 25,000 in the domestic market. Having no successor, this car is currently the only Gran Turismo Coupe ever produced by Alfa Romeo.
Design
The aesthetics do not differ much from that of the 156, a car based in fact on the same structure. We note that while the front looks like the traditional one of the Alfa Romeos of those years, the rear assumes a rather unusual shape, whose curvature sometimes recalls that of the Brera.
Interior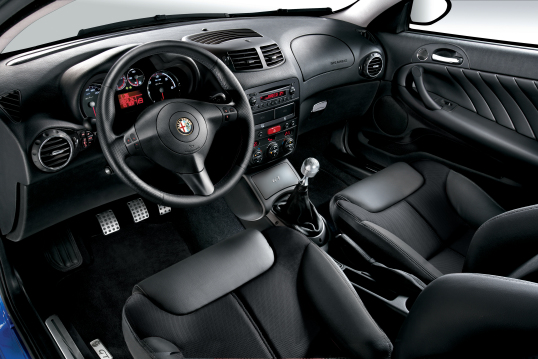 The interior of the GT is of good build quality, but minimal and certainly not gorgeous.  The "Luxury Pack" option includes more detailed interiors and a satellite navigator.  Especially before the arrival of the 2007 facelift, the technologies could not hold a candle to those of rivals such as the Audi A5 or the Mercedes C-Class SportCoupe. In 2007, some new onboard technologies were introduced: Bluetooth connection and an MP3 player were added.
Mechanics 
The Alfa Romeo GT shares most of its mechanics with the 156 and wasn't offered in any diesel variant. The basic engine is a 140HP T.Spark; followed by a 1.9 150HP, a 2.0 165HP and a sporty V6 3.2 240HP called "GTA".
Our vote: ⭐⭐⭐⭐️ (4/5)