What is it?
The original generation of the Opel GT, the one produced between 1968 and 1973, is a sporty Coupe that is bold both in design and in its engineering solutions. It was a particularly cheap model, developed for those who did not have the great financial resources of who bought cars like the Corvette C3 but who still wanted to experience the thrill of a sprinting Coupe. During the development of this vehicle, General Motors decided to focus on giving American-styled lines, as potentially the GT would have had many sales in the US market. In its five years of production, the GT sold a total of around 100.000 units. The GT was replaced by the famous Manta A, but in 2006 it was revived in a modernized version, again under the name "GT".
Design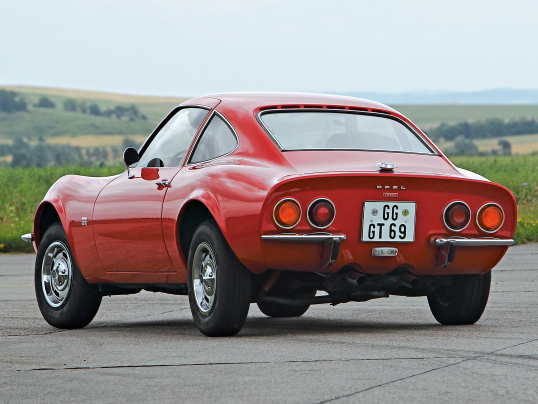 The GT has very sinuous and rounded lines, as well as very small air intakes and large retractable headlights. This 2-seater has a weight that varies from 850 to 950kg depending on the engine and equipment with which it is combined, and measures 4,11 meters in length and only 1,58 in width.
Interior
The GT gives a feeling of sportiness also inside, especially thanks to its low seats and their sporty setting. In addition to speed and number of revolutions, the analog dials also concern the ammeter, the oil pressure gauge and the water thermometer. What instead made many turn up their noses was the absence of a real trunk, if not the limited space available behind the seats, which was still largely occupied by the spare wheel.
Mechanics
The mechanics of the GT are generally inherited from the Kadett B, although there is no shortage of unprecedented high-level goodies such as the collapsible steering column that uses a ball circulation solution. The GT features a load-bearing body that features programmed deformation and is entirely made of steel. This vehicle was initially marketed with two engines: a 60HP 1.1 derived from the Kadett B and a 90HP 1.9 derived from the Rekord C. Both engines are combined with a 4-speed manual gearbox, but those who buy the 1.9 can also opt for a 3-speed automatic. Due to its poor performance, the 1.1 60HP sold very little, about 3% of the units purchased in total.
🏎️ Opel GT (1968)
📍 Germany
🛠️ 1.9 90HP
💨 11,5 seconds
🔝 185km/h
💶 No longer on sale
Our vote: ⭐⭐⭐⚡ (3,5/5)